Back in the days of the Atari 2600, any game was a good game. If the game had an exiciting box, all the better. As a kid interested in sci-fi, fantasy and video games, you can only imagine how thrilled I was to see
Demon Attack
at the mall. Just look at the box.
. I mean, fuck! Crazy looking robotic dinosaur-like things with rockets flying through space! How could that be bad?
As with all Atari 2600 games, however, the box was more like the concept you were supposed to imagine while playing.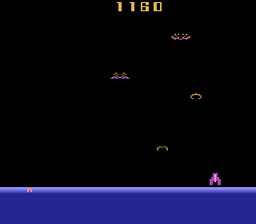 The game itself, from what I remember wasn't horrible. Bird-like creatures swooped down and you shot at them. It's a concept that worked for countless games like
Space Invaders
,
Centipede
and
Galaga
. Simple idea. Fun game because of it.
Imagic, which put out the game, often made games that used the full color palette of the 2600. The game would seem quaint now, but at the time stuff like this was hotcakes. It attracted you to it, and it kept you playing. It sure beat the minimalist
Pac-Man
approach to gaming.
Despite the fun factor, I do remember feeling slightly ripped off, as I usually did whenever I bought a 2600 game. These things from the sky did not resemble the awesomeness that was on the cartridge box. Instead, they looked like the things from other games with different titles. Still, with a name like
Demon Attack
, you kind of can't go wrong.